Motion sensor High Bay Features:
1. Angle adjustable, beam angle of lens cover for optional: 60 / 90 / 120 degree.
2. Patented & Slim design.
3. Wiring box with PC cover, sensor(optional) built-in.
4. High efficacy up to 160lm/w.
5. CE/ROHS listed.
6. Multiple installations: Chain hanging/ Ceiling mounted/ Stem mounted.
7. 5 years warranty.
Benefits of Motion sensor high bay
· Angle adjustable, light output angle can be adjusted easily.
· High lumen output- Up to 160lm/w.
· Patent design,ETL/DLC listed.
· Install & play, no-gateway, directly connect to mobile APP, easy to configure and use.
· Simple interface, quick to apply, ready for both newly-designed and upgrade lights.
· No registration, password-free, active control of privileges, protection of privacy.
· No signal line, switch line, Easy to install and maintain.
Structure of Bluetooth linear high bay with motion sensor
Specification of Motion sensor linear high bay lights
80W
100W
150W
185W
240W
300W
Model

ARK1HB080

DNKXX140D

ARK1HB100

DNKXX140D

ARK2HB150

DNKXX140D

ARK3HB185

DNKXX140D

ARK3HB240

DNKXX140D

ARK4HB300

DNKXX140D

Luminous Flux
11200lm
3000lm
14000lm
21000lm
25900lm
42000lm
Model

ARK1HB080

DNKXX160D

ARK1HB100

DNKXX160D

ARK2HB150

DNKXX160D

ARK3HB185

DNKXX160D

ARK3HB240

DNKXX160D

Luminous Flux
12800lm
16000lm
24000lm
5200lm
29600lm
Dimension
23.67"x13.91"x1.91"
46.19"x13.91"x1.91"
Light Source
SMD2835 LED
Luminous Efficacy
>140lm/w-160lm/w
Operation Temp.
-40 to +45℃
CCT
2700K -- 6000K CW
CRI
80
Life Span
50,000 hours at 25℃
Voltage
100-277VAC/50-60HZ
Driver
UL listed power supply
Emergency Module
Available
Dimming
0-10V
Sensor
Motion sensor & Daylight sensor 2 in 1
Beam Angle
60° 90° 120°
PF
>0.95
Warranty
5 Years
TIOSL Linear High Bay angle VS Traditional Highbay:

Bluetooth linear high bay smart sensor detector range

Benefits of LED Linear High Bay light Bluetooth smart lighting control system
· Wireless bluetooth mesh connection.
· No gate, password, internet or cloud connection needed.
· Area/Group control, group linkage.
· Visualized map, by using blueprint or photo to install or control light.
· Real-time energy-saving calculation.
· Auto emergency battery test.
Bluetooth mesh wireless app & remote control
Bluetooth APP Control
Support iOS, Android phones.
Easily add and manage lamps and smart switches.
* Use APP to group lamps.
* Set lighting scenes.
* Manage timer tasks.
* Configure delay time of human motion sensor.
* Configure group linkage control.
* Manage lamps of different areas in one smartphone.
* Share control privilege among smartphones
* Assign different privileges to staff to manage lamps.
* Compatible with most Android phones
Bluetooth Remote Control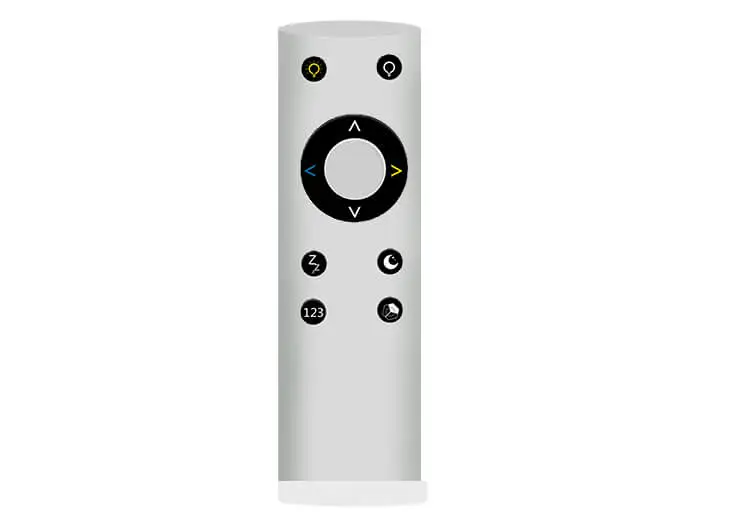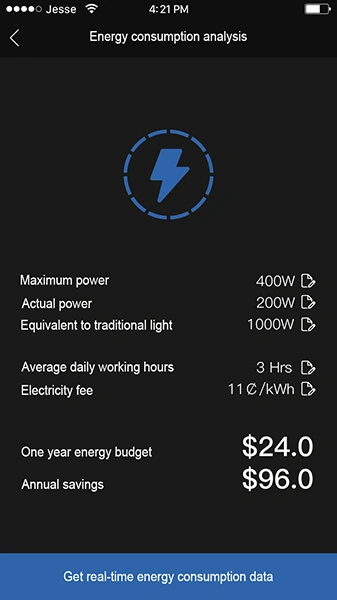 Electricity statistics
(sofeware function)
        In this interface, the customer can intuitively see the maximum power of the luminaire, 
       the watt light parameters of the time power. 
       Enter the electricity bill, you can check the cost of the lighting electricity, as well as the energy saving costs.
        The new version adds the power statistics function, which aims to let customers 
        have a detailed understanding of the power consumption of all their lamps, and understand 
        the power costs that the system helps them save.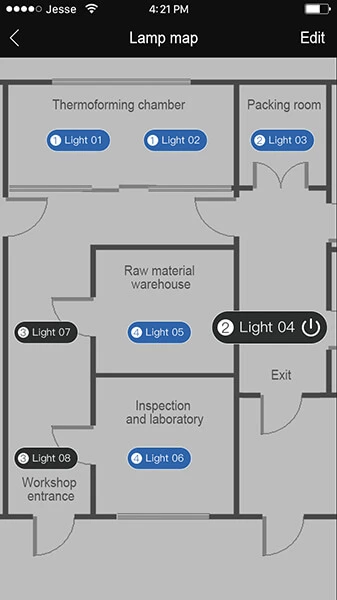 Visualized Commissioning
(sofeware function)
        By taking pictures of the real scene of the construction site or importing the real scene map, 
       the map of the location of the luminaire will be automatically generated in the APP, and the location
       of the area and the location of the luminaire.
        New features will help customers quickly find their target fixtures and view the distribution of all fixtures.
Industries We Serve
The intelligent energy-efficient Bluetooth mesh network IOT lighting control system
12 years experience wholesale lighting company UFO led high bay manufacturers