Tunable white Troffer light Features:
1. Beam angle:120 degrees.
2. Metal die-casting heat sinks is good for heat dissipation.
3. It's major to replace the CFL/MH/HID/HPS.
4. Green, energy saving(70~80%), long and reliable life >72000 hrs.
5. Wide color availability in degrees Kelvin(K), 2700-6700K.
6. Special circuit design each LED work separately avoiding the single broken LED influence problem.
Smart tunable white led troffer light
App or panel switch wireless control; 
Support group & scenes control, timing setting; 
Active control of privileges, protection of privacy;
Patented design, ultra-low power consumption switch.
ARK SMART  lights are embedded with motion detection, photo sensing, color tuning*, and control modules. 
Suitable for office, school, library, hospital, work plant, and warehouse, etc.
Structures of the smart tunable white troffer lights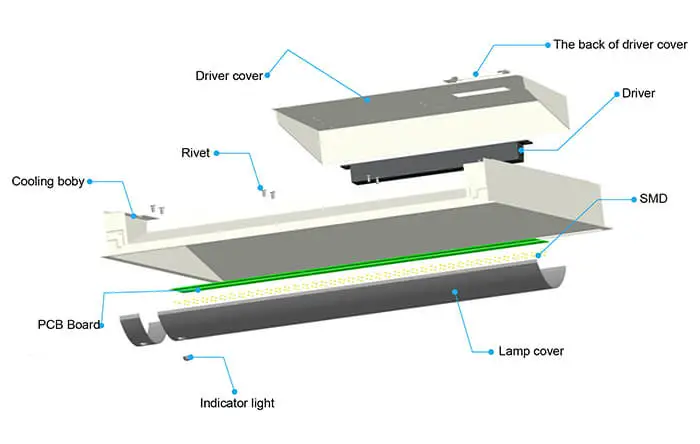 Benefits of the smart tunable white troffer lights
· Luminaire destined to send more fluorescent fixtures down the tubes.
· Class-leading performance up to 130/150 LPW for maximum energy savings – up to 60% less than similar fluorescent solutions.
· Troffer qualifies for DLC which enables enhanced rebates nationwide.
· Remarkably priced for a typical payback of fewer than one years.
· Choose between 80+ and 90 CRI to enhance the look of any space.
· Ultra-thin height and lightweight design effectively target a broad range of plenum spaces.
· Smart Technology intelligent light solution or continuous 0-10V dimming to 5% along with up to 130 LPW efficacy enables compliance with most nationwide energy codes.
· Creates a soft, comfortable lighting experience by utilizing a matte finish design which reduces glare and enables perfect vertical and horizontal light distribution.

 
Specification of smart tunable white led troffer lights
24W
20W
30W
40W
50W
60W

Model

ARK22T24

DN40140

ARK24T20

DN40140

ARK24T30

DN40140

ARK24T40

DN40140

ARK24T50

DN40140

ARK24T60

DN40130

Luminous Flux
3120lm
3000lm
4500lm
5200lm
6500lm
5200lm
DLC certification
Y
Y
Y
Y
Y
Y
Dimension
23.81"X 23.81"X 2.5"
47.83"X23.81"X2.5"
Light Source
SMD2835 LED
Luminous Efficacy
>130/150 lm/w
Operation Temp.
-40 to +45℃
CCT
2700K -- 6000K CW
CRI
80
Life Span
50,000 hours at 25℃
Voltage
100-277VAC/50-60HZ
Driver
UL listed power supply
Emergency Module
Available
Dimming
0-10V
Sensor
Motion sensor & Daylight sensor 2 in 1
Beam Angle
120°
PF
>0.95

Warranty

5 Years
Bluetooth smart led troffer motion sensor detector range

Benefits of UFO LED high bay light Bluetooth smart lighting control system
· Wireless bluetooth mesh connection.
· No gate, password, internet or cloud connection needed.
· Area/Group control, group linkage.
· Visualized map, by using blueprint or photo to install or control light.
· Real-time energy-saving calculation.
· Auto emergency battery test.
Bluetooth mesh wireless app & remote control
Bluetooth APP Control
Support iOS, Android phones.
Easily add and manage lamps and smart switches.
* Use APP to group lamps.
* Set lighting scenes.
* Manage timer tasks.
* Configure delay time of human motion sensor.
* Configure group linkage control.
* Manage lamps of different areas in one smartphone.
* Share control privilege among smartphones
* Assign different privileges to staff to manage lamps.
* Compatible with most Android phones
Bluetooth Remote Control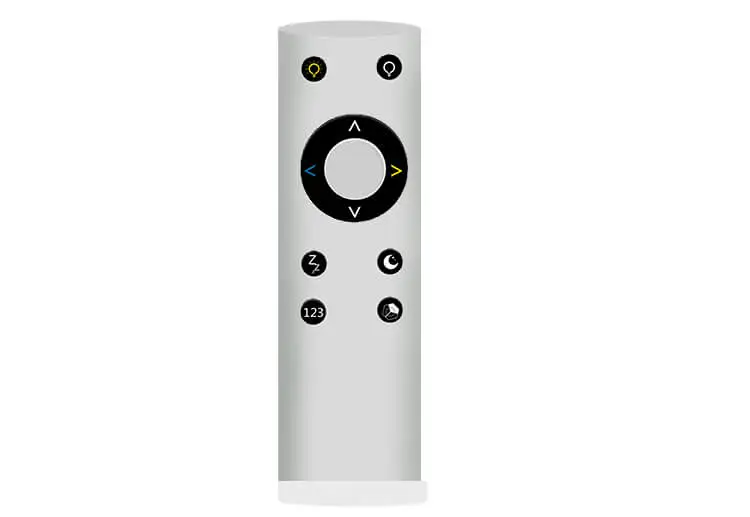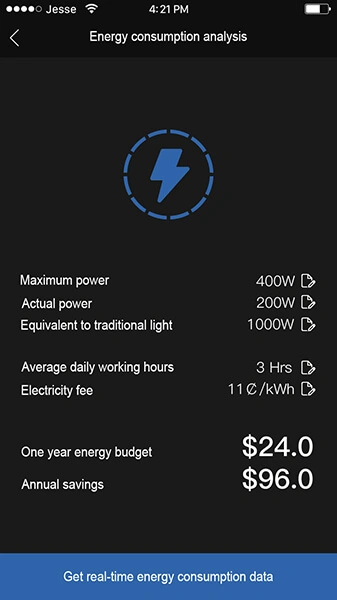 Electricity statistics
(sofeware function)
        In this interface, the customer can intuitively see the maximum power of the luminaire, 
       the watt light parameters of the time power. 
       Enter the electricity bill, you can check the cost of the lighting electricity, as well as the energy saving costs.
        The new version adds the power statistics function, which aims to let customers 
        have a detailed understanding of the power consumption of all their lamps, and understand 
        the power costs that the system helps them save.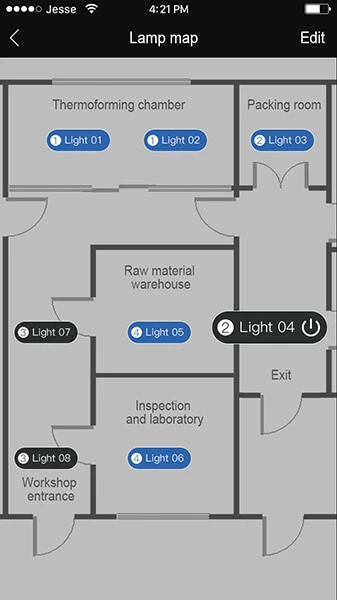 Visualized Commissioning
(sofeware function)
        By taking pictures of the real scene of the construction site or importing the real scene map, 
       the map of the location of the luminaire will be automatically generated in the APP, and the location
       of the area and the location of the luminaire.
        New features will help customers quickly find their target fixtures and view the distribution of all fixtures.
Industries We Serve
The intelligent energy-efficient Bluetooth mesh network IOT lighting control system
12 years experience wholesale lighting company UFO led high bay manufacturers