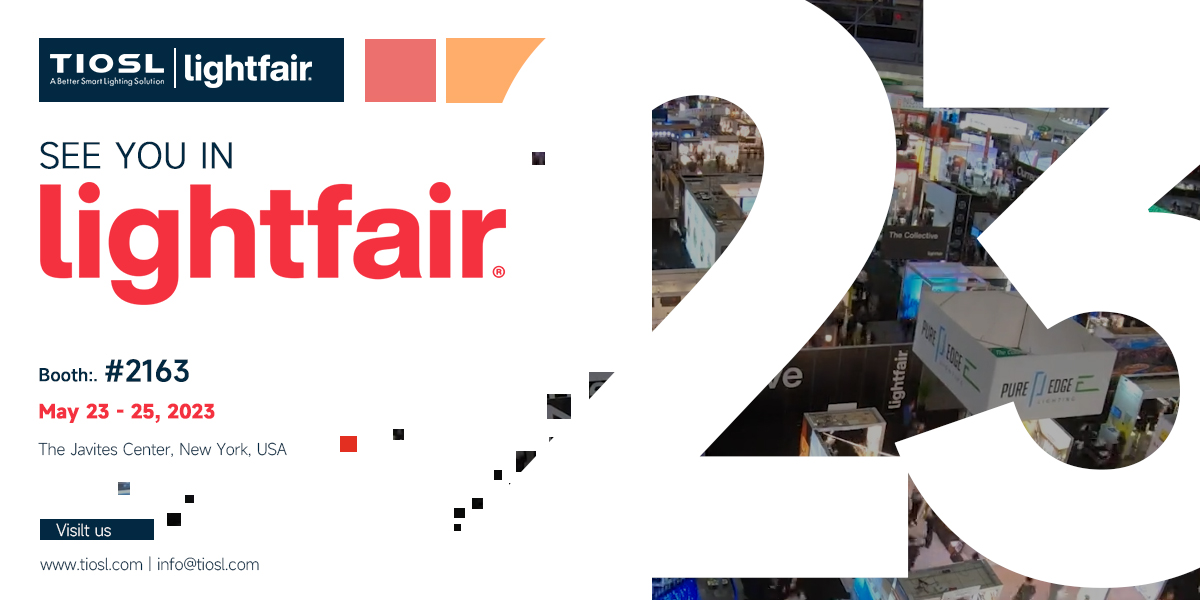 TIOSL smart announces its participation at NYC Lightfair 2023
TIOSL smart, a China-based Leading Building IoT platform provider and lighting manufacturer that offers the world's most advanced Smart Lighting solutions to leading organizations worldwide, announced today that it will be participating in NYC Light Fair 2023, where it will exhibit its award-winning Smart Lighting Control System built on (platform name) IoT platform. At Lightfair booth # 2163, TIOSL smart will showcase its Smart Lighting solutions including its Smart Lighting control system, LED fixtures, and commercial HID lighting solutions.
LIGHTFAIR International (LFI) is the premier lighting expo, featuring innovative design, leading-edge design, advanced technology, networking offerings, and educational programs. LIGHTFAIR International is a co-organization of the International Association of Lighting Designers (IALD) and the Illuminating Engineering Society (IES). Production and management of the event are done by AMC, Inc.
Lightfair International 2023 features an array of opportunities for brands to showcase new products, promote their brands, exhibit technological innovations, and present groundbreaking lighting solutions in areas such as green building, deleting products, eco-friendly lighting, outdoor and public lighting, and innovative products & services.
As part of the exhibit, TIOSL smart will be joined by others that specialize in smart lighting control, including Synapse Wireless, Enlighted Inc, and Mcwong International Inc. TIOSL smart, on the other hand, claims to be the only Smart Lighting Solutions provider in China that has taken the initiative to integrate LEDs directly into their lighting products. They also manufacture traditional fixtures using replaceable light bulbs and linear tubes. This, in addition to bringing substantial new opportunities for unique fixture design due to the compactness and modularity of LEDs, allows for enhanced compatibility and performance of every component of a lighting product.
TIOSL smart will utilize this platform to highlight their Smart lighting control system, something that is pretty exclusive to them and has not yet been touched by their industry competitors. Smart lighting control systems are internet-capable LED- integrated Lighting systems that allow various system inputs and outputs to coordinate over a network and are managed by one or more central computing devices. Using Smart Lighting control systems will maximize savings from lighting systems, comply with energy conservation programs, or satisfy building codes. Lighting control systems are sometimes called Smart Lighting.
As part of NYC Light Fair, TIOSL smart will demonstrate its LED-integrated fixture designs and internet-capable lighting control system and products.
About LightFair
The world's largest annual lighting trade show and conference, LightFair, is conducted and owned by the International Association of Lighting Designers (IALD) and the Illuminating Engineering Society(IES). The trade show is organized by International Market Centers (IMC). For more information,